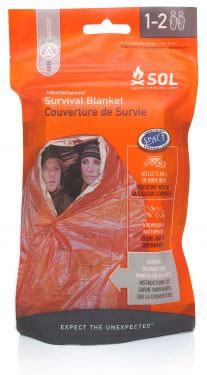 This two person survival blanket keeps you and a companion warm. Acts as a vapor barrier protecting you from the harsh cold wind. A premium product designed with quality and durability in mind.
Survival Blanket
20% Larger than competitive products! 96 inches x 60 inches (244cm x 152cm)
Made of more durable, reusable, repairable, tear resistant, and quieter Heatsheets® polyethylene material. Within seconds of wrapping this around yourself, you begin to feel warmth. This is your own body heat not escaping into the air as it normally does. Instead it's contained within the confines of the survival blanket and around you where it belongs.
Aids in your rescue. Features BRIGHT ORANGE coloring...an easy to spot universal distress color for rescue!

Survival and first-aid instructions are printed directly on the blanket – you will have them when you need them. Wilderness survival instructions cover topics such as shelter, fire, signaling, water, and first aid. In addition, clear illustrations provide examples of how to make a tarp lean-to, a fallen tree shelter, a fire barrier for reflecting heat from a fire, creating a snow trench, signaling a plane, fire starting, and collecting water in a solar still. All things you would be very interested in if you find yourself needing an emergency blanket.
Reflects up to 90% of radiated body heat. Easy to open and refold. Compact shape makes it easy to pack. Weight: 3.2 ounces.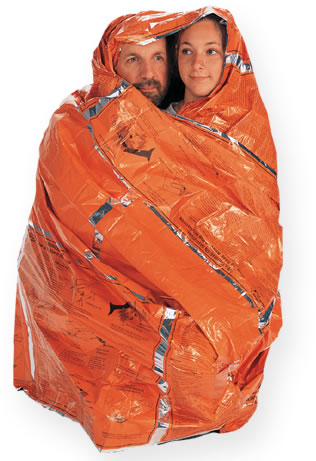 SIZE: 60" x 96"
WEIGHT: 3.2oz