A survival whistle to include in your survival kit or carry in pocket or pack. Use for signaling for help.
Survival Whistle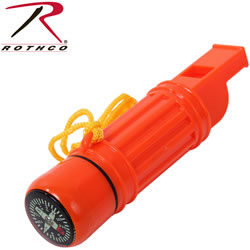 Five useful survival tools in one survival kit, pocket, or pack.
Survival Aid contains:
Waterproof match box with rubber gasket
Small signal mirror (inside the match box cap)
Liquid filled luminous dial compass
Shrill signal whistle (ball type)
Fire starter flint bar (3/4" long)
Nylon lanyard
ABS plastic construction
Survival Whistle Weighs only 1 oz. (28g)
Size: 4-1/2 (11.4cm) long x 1" (2.5cm) diameter
5 in 1 Survival Kit - useful for hunting, fishing, backpacking, climbing, camping
If using safety matches with the survival whistle, you will also need the striker from the original match box to ignite the matches. Tear it off and keep it in the waterproof match case of the survival kit with the matches.
To use the flint bar, you will also need a steel (such as a knife blade) to create sparks and you will need dry tinder to ignite.

This can be great for kids' survival kits or hiking with kids as well. The waterproof section is designed for matches or tinder, but could also be used for candy or other kid's goodies. I keep extra tinder in one of them. Cotton balls soaked in petroleum jelly is a great home-made tinder source.
"My kids know to blow the whistle if they are lost or have become separated from us. I went so far ahead of them one time, that I would have never heard them yelling. If it weren't for the whistle, I wouldn't have known they were calling for me."