Like a sleeping bag, this Thermo-Lite® 2 emergency bivvy sack will keep you out of the cold. This is a heavy duty bivvy sack that can withstand abuse. It's much thicker than a regular emergency blanket and is rugged enough for any terrain. Fits one person. Put these in your home emergency or survival kit. They are waterproof, windproof, and warm.
Emergency Bivvy Sack
This multi-functional, year round bivvy sack is ideal as a light weight replacement for your sleeping bag when temperatures are above 50F/9C and an excellent emergency survival shelter for winter time activities.
An ideal survival/emergency bag for day hikes, summit attempts, cross country skiing, snowmobiling, and more. Made from a tough, four-ply, wind/waterproof fabric (Thermo-Lite®), which will hold up to abuse while providing a soft feel and hydrophobic capabilities. Foot vent and large opening provide ventilation to prevent you from getting too hot.
Thermo-Lite 2.0 Bivvy Sack is tapered from the foot to the head to reduce weight. Thermo-regulated design with foot vent allows you to close the bivvy to keep heat in or open up the side and top to let heat and moisture escape. Reusable. Packed in a SilNylon Stuff Sack.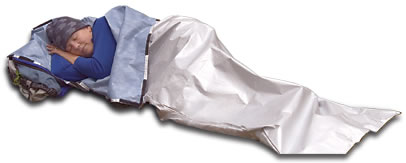 Ideal For:
Climbers
Mountaineers
Adventure Racers
Backcountry Skiers
Hunters
Pilots
Hikers
Summer weight backpacking bag
Snowmobilers
The durable Thermo-Lite fabric reflects and retains up to 80% of radiated body heat. This is not a mylar emergency blanket. It is much more durable which makes it perfect for use in extreme conditions. As an emergency blanket or even as your only outdoor sleeping bag, this Thermo-Lite Emergency Bivvy Sack will do you right. Can be used as an ultralight warm weather sleep system.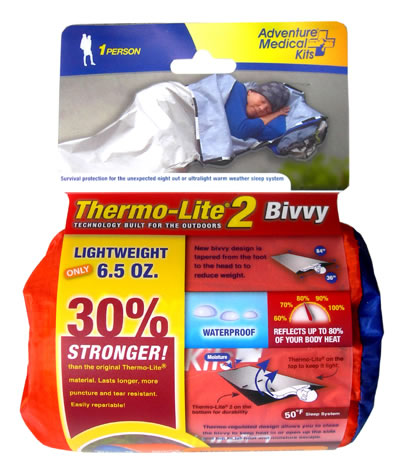 Size: 36" x 84" at the head; tapers to 27" x 84" at the foot
Customer reviews
Recommendation for purchase
Nobody recommended yet this product
Any Experience With This product?
Share it with others to help them make the right choice
Write a review