Do you need toilet paper in your kits? That's more of a personal choice since it's bulky and takes up space. For many, the comfort factor outweighs the idea of roughing it.
Individual tissue pack for emergency sanitation preparation. Great for camping, picnicking, boating, and of course keeping in your survival kit. They won't last too long but they're good while you got them. Tissue or leaves?
Also great for keeping in your vehicle's glove compartment. If you need a napkin for any reason, you'll have a supply on hand.
Personal pack of tissue
Soft, Strong and Absorbent
Biodegradable
140 sheets per roll
1 roll per package
Tissue Rolls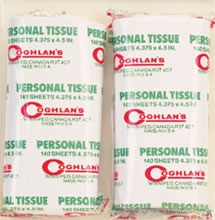 $.90 per roll/$1.80 per two rolls