Work Gloves help protect your hands while getting work done. In the field, there's always work to be done. Clearing brush, cutting branches, gathering bedding material, digging or sawing.
You should include gloves in your survival kit. Handling rough branches and doing other manual labor work can be hard on your hands. Excessive rubbing from doing work can cause painful blisters and lead to open sores.
Work Gloves
Your hands are what feeds you. It will be harder to get things done if you have to be careful about not further injuring or creating even more blisters. This is not something you want to be dealing with in an extreme circumstance. Protect your hands.
Helps prevent insect bites too. If you're picking up logs, branches, or moving brush around, gloves will help prevent stings and bites from unseen critters.
And if you're dealing with thorny things, gloves are an absolute necessity.
Get through the work day without getting blisters on your hands.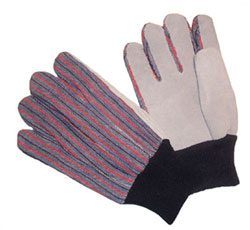 - Select Split Cowhide Leather Palm for durability
- Cotton Lined for comfort
- Knit Wrist (Knit Wrist keeps dirt out and fits comfortably.)