Fatwood is a naturally occurring substance found in dead pine trees. Known as nature's best firestarter, these resin soaked sticks will accept a spark to get them lit. Once lit, they will stay lit for several minutes which is plenty of time for you to get the rest of the kindling for your fire going.
Fatwood Fire Starter
This 3 oz tin contains enough fatwood sticks to create many fires. Each fatwood stick can be shaved to create even more emergency tinder. Use your knife to shave off a small pile and use your ferro rod or one of your other fire starters to create the spark that ignites your fatwood. You don't need even to use a whole stick to get your fire going.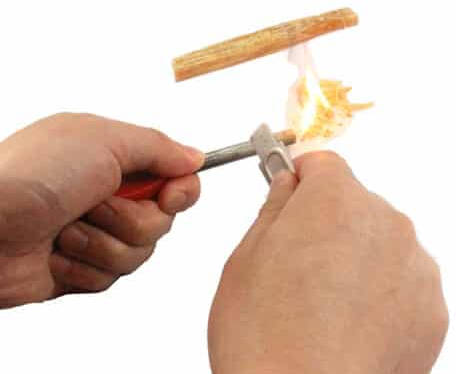 Easy to Light
Keep a tin of this fatwood in your survival kit so you know you have a reliable source of tinder when you need it the most. Keep a tin of fatwood around the house to kickstart the fireplace or your barbeque.
What is Fatwood?
Fatwood is the resinous remains of a pine tree that has died. When a pine tree dies, either upright or fallen, the sap settles into the heartwood of the branches and trunk. As the tree rots, the sap hardens into resin-soaked wood; this is the 100% all natural fatwood.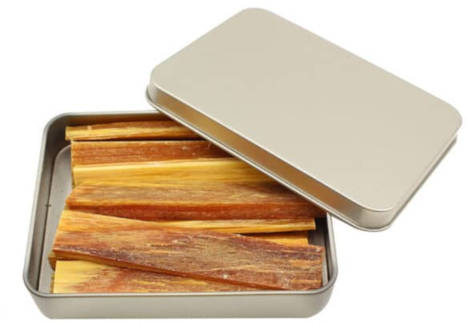 Each of these fire sticks is a top-quality piece of survival gear you can use for any emergency or survival situation. Make sure you have some in each of your kits.
Keeping Warm is Vital to Survival
Staying warm is one of the most critical pieces when it comes to survival. Ensuring you have a fire starter is the first step. Making sure you have some form of tinder that guarantees you success is very important.
Sure, you can create a bow drill or a hand drill to create your own ember.  But, it's a lot of work and doesn't always work.
When the stakes are high and the weather isn't cooperating, you'd much rather have a dependable source of light and heat. This tin fatwood gives you that feel good knowing you'll always be able to light a fire.
Keep your fatwood sticks inside the tin to keep them protected and to prevent you from losing them.