The most important item in your survival kit is the means to make a fire. By scraping the back of your knife or the attached metal scraper down the ferro rod, you will create a shower of sparks.
You can direct these sparks onto a ready-made tinder bundle or commercial tinder that will ignite into flames and you have a fire. With this ferrocerium rod, you can start a fire easily and quickly with just sparks.
Ferro Rod with Included Striker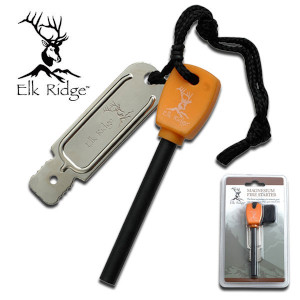 By scraping the rod with the attached ferro rod striker, you will create a shower of sparks.
Its 3,000°C spark makes fire building easy in any weather and at any altitude. It is an essential tool for anyone in the military and for outdoor activities including bushcraft, fishing, camping, hiking, or hunting trips.
What is a Ferro Rod?
A ferro rod is a cylindrical piece of metal usually made of ferrocerium, a synthetic pyrophoric alloy of "mischmetal" (cerium, lanthanum, neodymium, other trace lanthanides, and some iron – about 95% lanthanides and 5% iron) hardened by blending in oxides of iron and/or magnesium. When scraped with another piece of metal, this creates a shower of sparks that will ignite your tinder.
It is especially good as a survival tool -- the bright spark can be used as an emergency signal to get the attention of rescuers at night. The orange handle also makes it easy to find if you drop it.
Keep one in your preparedness kit, on yourself, in your vehicles, even in your tackle box. Never be without a way to create fire.
Dimensions: 4 inches in length including handle.