Wetfire tinder is a non toxic fire starting tinder that burns even on a wet surface. Throw a spark on the cube and it ignites into flame. Each one lasts 6 minutes. Long enough to get your kindling going. This a 12 pack of the fire starting cubes. Lights in the snow and even when floating on water.
Wetfire Tinder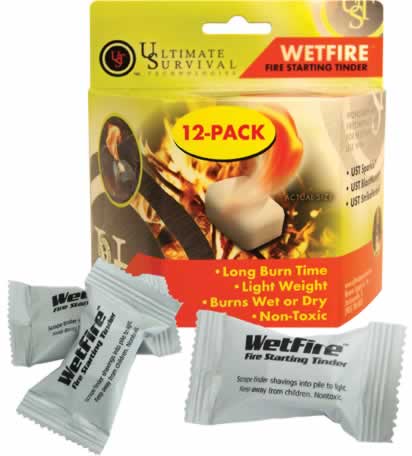 Directions: Find an area of firm ground or a large piece of bark for your fire area. Make sure the area is clear of material you do not intend to burn.
1. Open a Wetfire tinder package and remove the Wetfire cube. Prepare the cube by scraping the surface of the cube to create a small pile of shavings. You can use your fingers to break it up easily.
2. Place the prepared tinder in the center of the fire building area and light. You can use matches, a ferro rod, a lighter, or anything that will create flame or spark.
3. It only takes a small amount of Wetfire to get a flame going. After the tinder is lit, add dry leaves, twigs or other small kindling. Have this gathered before you light the tinder and add it slowly to the flame.
4. For larger fires, or when materials are not completely dry, plan to use the entire cube. One cube can burn for up to six minutes.
Note: If cube gets wet, scrape into center of cube to create shavings and light. Burn rate will vary depending on environmental conditions.
If the entire Wetfire cube is not used, it can be reused for up to three months after opening an individual packet. For best results, package partially used cube in a plastic bag or container. Fully sealed cubes stored properly in original packaging can retain their fire starting properties for approximately 5 years.
Use in well ventilated area. Not designed to be used indoors or in an enclosed space.
LONG BURN TIME
LIGHT WEIGHT
BURNS WET OR DRY
NONTOXIC FIRE STARTING TINDER THAT BURNS EVEN ON A WET SURFACE
BURN RATE WILL VARY UPON ENVIRONMENTAL CONDITIONS
IF ENTIRE WETFIRE CUBE IS NOT USED, IT CAN BE REUSED FOR UP TO THREE MONTHS
FOR BEST RESULTS, STORE PARTIALLY USED CUBE IN A PLASTIC BAG OR CONTAINER
FULLY SEALED CUBES IN ORIGINALLY PACKAGING CAN RETAIN THEIR FIRE STARTING PROPERTIES FOR APPROXIMATELY 5 YEARS
MADE IN USA