Garbage Bags for Disasters
The next time you visit your local hardware store, pick up a small package of contractor grade trash bags. While a box or roll of them will be somewhat heavy, individually they weigh seemingly nothing, and adding a few of them to your bug out bag won't be noticed.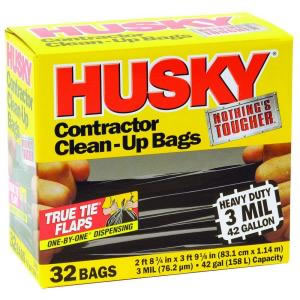 Some folks use a garbage bag to line their packs, in order to keep things dry inside. This isn't a bad idea at all. Simply open the pack and drop in a trash bag, very similar to how you'd use the bag in a trash can. Then, fill it with your gear and use a twist tie to close up the bag. This method is far better than first putting the gear into the bag, then trying to stuff the loaded bag into the pack.
A trash bag also makes for a great ground cover when you're out in the field. You can kneel or sit on it, even lay a couple of them end to end so you can lie down. This is why I suggest using contractor grade bags. They are thicker and thus much more durable. The standard trash bags you'll find at the grocery store are typically very thin and will tear easily if you tried using them as ground cover.
Should you find you need to cross a small body of water, you can fill the trash bag with air and tie it closed to make a flotation device. It isn't perfect, not by any stretch of the imagination, but it will work fairly well for short term use.
If you're in bear country, put all of your food and such into a trash bag and hang it high from a tree. The plastic trash bag will help keep smells from wafting through the forest.
Contractor Grade Trash Bags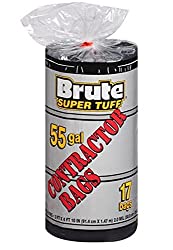 In a pinch, you can stuff a bag with leaves and grass to make a pillow or small mattress. Not the most comfortable option in the world but it will help insulate you from the cold ground.
At home, if the plumbing isn't working after a disaster, you can line the toilet with a trash bag to avoid having to use the tree outside. After a few uses, you'll obviously need to change the bag. Don't wait for the bag to get too full. You might be surprised at just how much human waste weighs. Keep a box of baking soda or some powder laundry detergent nearby and sprinkle some into the bag after each use to help with odors.
Remember, try to stick with the thicker, contractor-grade, trash bags. They are going to be more expensive, yes, but they are also far more durable. When you piece it out, they'll still amount to mere pennies per bag, too.
Comments
Do you like the article?
Share your impressions with other readers
Write a review