This mini ALICE pack is a smaller version of our full size large rucksack. It is made of 600 Denier polyester and comes with adjustable shoulder straps for easy carrying. It is a perfect size for a get away bag or a small bug out bag.
Mini Alice Pack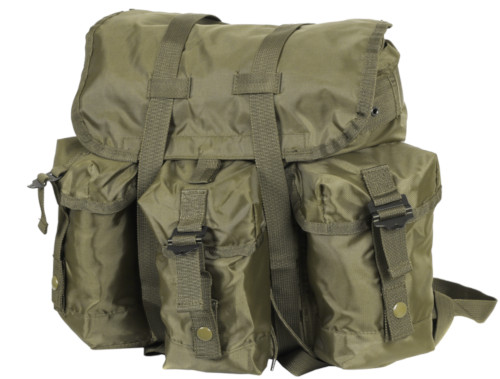 Large outside pockets with snap closure. Cinch straps to tighten down pockets.
Size: 14 1/2" x 12" x 7"
The cover flap also contains a pocket for slipping in flat items such as maps, books, and pamphlets.
This is a great size for creating your own Alice pack survival kit or bug out bag. Large main compartment for carrying your main gear. The outer pockets can be used for raingear, tarp or shelter, or anything that you may need quick access to without digging out your entire contents.
ALICE stands for All-Purpose Lightweight Individual Carrying Equipment system and was adopted by the United States Army in the 1960s to help army soldiers carry large heavy packs.