Large, military-type rucksack. Same style backpack we carried in the the Army. The bug out bag has many pockets and attachment points for carrying a full load.
Rucksack With Frame
Nylon
Metal hardware & frame
Shoulder straps
Kidney pad
Approximately 22" x 20" x 19"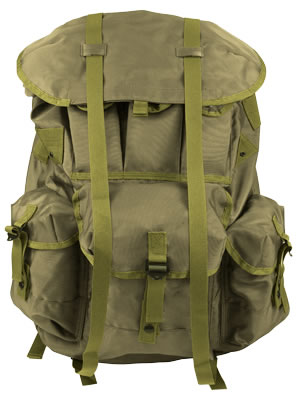 Includes Metal Frame, shoulder pads, kidney pad
There are three large outside pockets along the lower, three smaller pockets near the top. One inside pocket with closing strap and buckle. There is also a pocket in the top flap which can be opened and closed.
Plenty of spots to keep your immediate need items such as fire starting and wet weather gear on the outside while your other gear remains on the inside.
You can get real fancy in choosing a backpack to carry your survival gear. However, this pack has tons of room, lots of outside pockets and is very durable. I still have my original rucksack from my Army days and use it for all my outdoor excursions. For a no nonsense solution, this rucksack is the answer.
We also carry a Mini Alice Pack