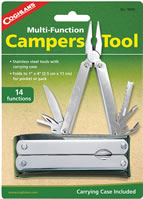 A multi tool is a versatile piece of equipment that has many valuable uses in the field or in a survival scenario.
If you were boiling a can of water, you could use the pliers to grab hold of it without burning your hand.
Inexpensive Multi Tool
The pliers on a multi tool will be used more than you think in the field or on a camping trip. You can take the hook out of a fish. In a survival scenario, the wire cutters can snip the snare wire for you. The screwdriver can be used to repair other gear or equipment. And of course the knives have multiple uses as well.
This cheap multi function campers tool includes: regular and needle nose pliers, vise grip teeth, wire cutter, 3 sizes screwdriver blades, Phillips screwdriver, can opener, punch/awl, bottle opener, file, 2 knife blades and includes the carrying case.
14 function
Stainless Steel
Folds to 1" x 4" for pocket or pack
Lots of functionality for a knife. The file works great in conjunction with the magnesium fire starter. The rough edges of the file scrape more flakes making your fire starting task that much quicker.