A top priority in any survival or emergency situation is maintaining your body's core temperature. Get too cold and you go into hypothermia. One way to lose heat is through a process called conduction. Direct contact with the cold ground will very quickly take your body heat and leave you...well, out in the cold.
Sleep in comfort with this foam sleeping pad.
Puts a barrier between you and Mother Earth.
In the woods where you have lots of debris and boughs, you can fashion your own protective barrier against conduction by piling up pine branches, dry leaves, or other debris and lying on top of that. This layer insulates you against conduction and keeps your body heat where it's supposed to be...in and around your body.
Even with a tent and ground cloth underneath you, if there isn't enough thickness and insulative properties, the cold earth will draw your heat away from you and into the ground. That's why it's important to have enough thickness so you stay completely up and off the ground.
A polyethylene sleeping pad is designed to provide that protective and insulating barrier you need to keep yourself warm and cozy on a cold night while sleeping outside. Instead of gathering up and cutting down pine boughs, you can just lay this pad underneath you and it will keep you from losing heat through conduction.
It is a lot thinner than a stack of debris and doesn't weigh hardly anything either. And since it can strap right onto your pack, it's not too much to carry with you.
Use this sleeping pad in a tent, on the bare ground, or in your makeshift shelter. It will do its job of keeping you warm, reducing the work you need to do by eliminating the gathering of debris, and providing a slice of comfort you wouldn't otherwise have.
Sleeping Pad
As an emergency piece of equipment for your own preps, if you lose your home, you will at least have a spot to sleep on and call your own.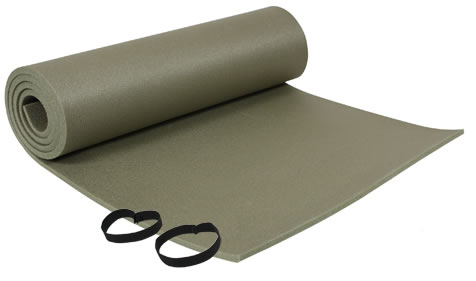 G.I. FOAM SLEEPING PAD WITH TIES
GREAT FOR CAMPING, HIKING AND OTHER OUTDOOR ACTIVITIES
KEEP DAMPNESS AWAY FROM BODY
SIZE: 71'' X 24''
THICKNESS: 3/8''
MADE OF POLYETHYLENE