The new Micro Inferno gives yet another option for carrying rock solid and dependable fire starting tinder. Each of these tinder tabs will burn for about 4-5 minutes which is plenty of time to set your kindling ablaze. Small enough to carry just about anywhere.
Micro Inferno Tinder Tabs
From someone who actually does go out in the woods practicing skills, I will tell you that I do not go out without a proven method and means of making a fire. Never am I out there without real tinder I know I can count on. I may opt not to use commercial tinder but that's only because I like to use natural material whenever I can. It helps to learn what works and improves my outdoor skills. But for ease of getting a blaze going and for an additional backup, I will carry what I know works in all weather conditions.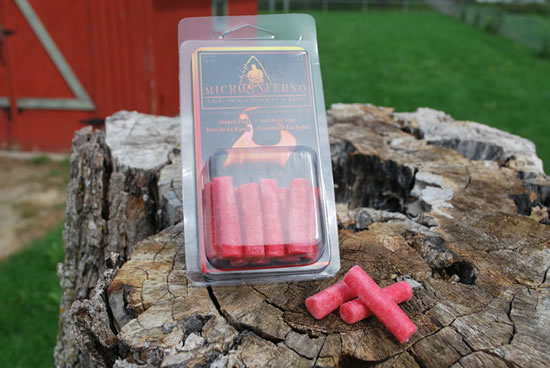 This fire starting tinder are bomb proof. The Micro Inferno is my go-to choice for carrying with me when I am packing up for a weekend advernture or inside my home emergency kit.
Available Now!
New Compact Design
100% Water Proof
Each Stick Burns for 4 to 5 Minutes
Each Package Contains 12 Sticks
Entire Package Will Burn Up To 60 Minutes!
You Can Also Store 2 Sticks In The Back of The Pathfinder Survival Fire Steel