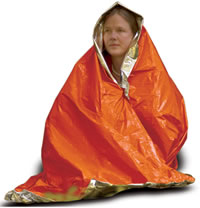 A Heatsheets® emergency blanket is a step up and the elite of survival blankets. They are a more compact, lightweight design and feature a quieter, more durable polyethylene material. Reflects 90% of your body heat to help keep you warm. This model fits one person. A two person emergency blanket is also available.
Emergency Blanket
An emergency blanket is a standard survival item because of its small size and lightweight nature. Keeping your survival gear as light as possible without giving up quality and effectiveness is the goal of a survival kit. This emergency blanket clearly fits within that criteria. Everyone that is in the woods should have one of these in their daypacks.
These Heatsheets emergency blankets are also great emergency items for keeping in your glove compartment in your car or vehicle. A breakdown on a cold night and no help on the way can be disastrous. At least you can stay warm with an emergency blanket.
Within seconds of wrapping this much improved space blanket around yourself, you begin to feel warmth. This is your own body heat not escaping into the air as it normally does. Instead it's contained within the confines of the Heatsheets emergency blanket and around you where it belongs.
Wind is also a sapper of body heat, especially if you're wet. Without a protective layer blocking the wind, you can quickly lose your own insulating abilities. Wind can not penetrate this material and can not rob you of your own warmth. This emergency blanket is effective as a wind blocker; keeping your vital body heat around you.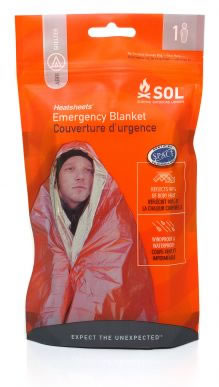 SIZE: 56" x 84"
WEIGHT: 2.9oz